BOUNCE 25 (DSP Guitar AMP)
---
BELCAT is mainly engaged in speakers, pickups, effectors, and a variety of self-developed products have patent rights and various quality and safety certifications. It is an accessory partner designated by a famous brand company.
---
Bounce 15 & 25 is modeled after legendary amp sounds
* The Bounce 15 is an advantage of using USB Type-C Power Delivery which is a fast charging technology,
and can be played anywhere using a mobile phone charger or power bank.
* Modeled amplifiers: - VOXX30, JAZZ CL, PLEXXII, TUBE SCM, LEAD800, SLO77, PV5180, RECTO.
- There are 8 modeling sounds.
* Bounce 25 in the drum machine with 30 rhythm patterns is built-in, addition to the Six effectors
(Chorus/Flanger/Vibrato, Delay/Reverb/D+Reverb).
* Bounce 15 In addition to the four effectors (Delay/Phaser, Chorus/Reverb)
* Bounce 15 & 25 is Built-in Bluetooth
---
SPECIFICATIONS:
- Power Output : 25W MAX @ 1.0% THD INTO 4Ω
- Input : 1 X Guitar Input, 1 X Aux In
- Output: 1 X Phones
- Bluetooth: 5.0
- Speaker : 2 X 5" 4Ω
- AMP: VOXX30, JAZZ CL, PLEXII, TUBE SCM,LEAD800, SL077, PV5180, RECTO.
- Controls : Gain, Treble, Bass, Volume(Master), Power S/W.
- Effects: Chorus/Flanger/Vibrato, Delay/Reverb/D+Reverb
- Rhythm Controls: Drum, Turn, Down, up
- Dimension : W357 X D187 X H195(mm) ( 14.1'' X 7.4'' X 7.7'')
---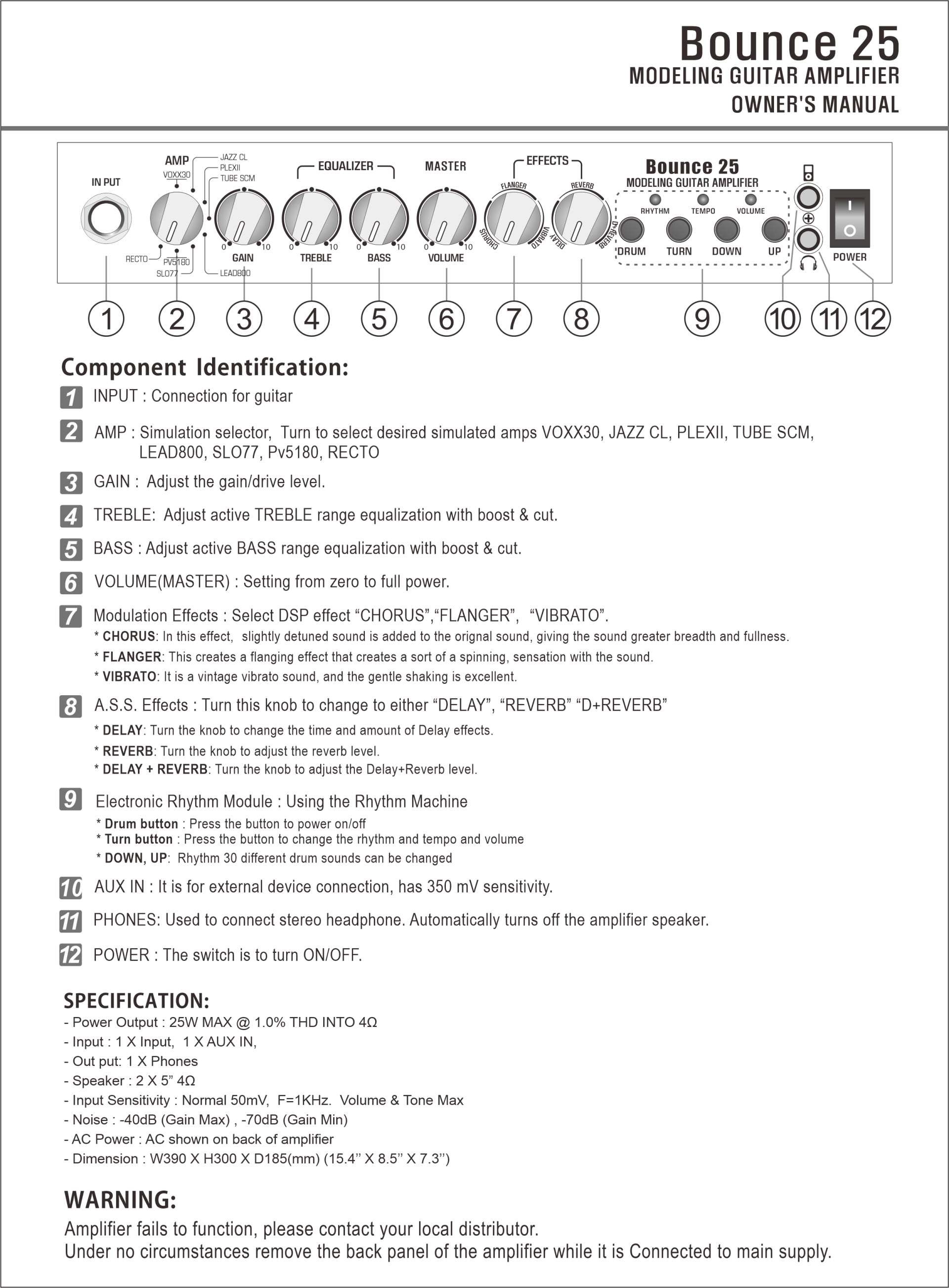 ---
---
Copyright © 2023 BELCAT Co.,LTD